Prior to commencing work within ConSol, a User Profile is required to be assigned User Roles.
User Roles dictate which tasks a user can partake in throughout the Order lifecycle and are designed to be cumulative, allowing for the expansion or specialisation of tasks available to be completed within ConSol. Additional User Profile options allow for greater flexibility and nuance within a role.
For example, we've outlined three common user types with their duties and relevant User Role and options:



ConSol Supplier User Roles and their associated tasks are as follows:
Supplier Roles (Order and claims management)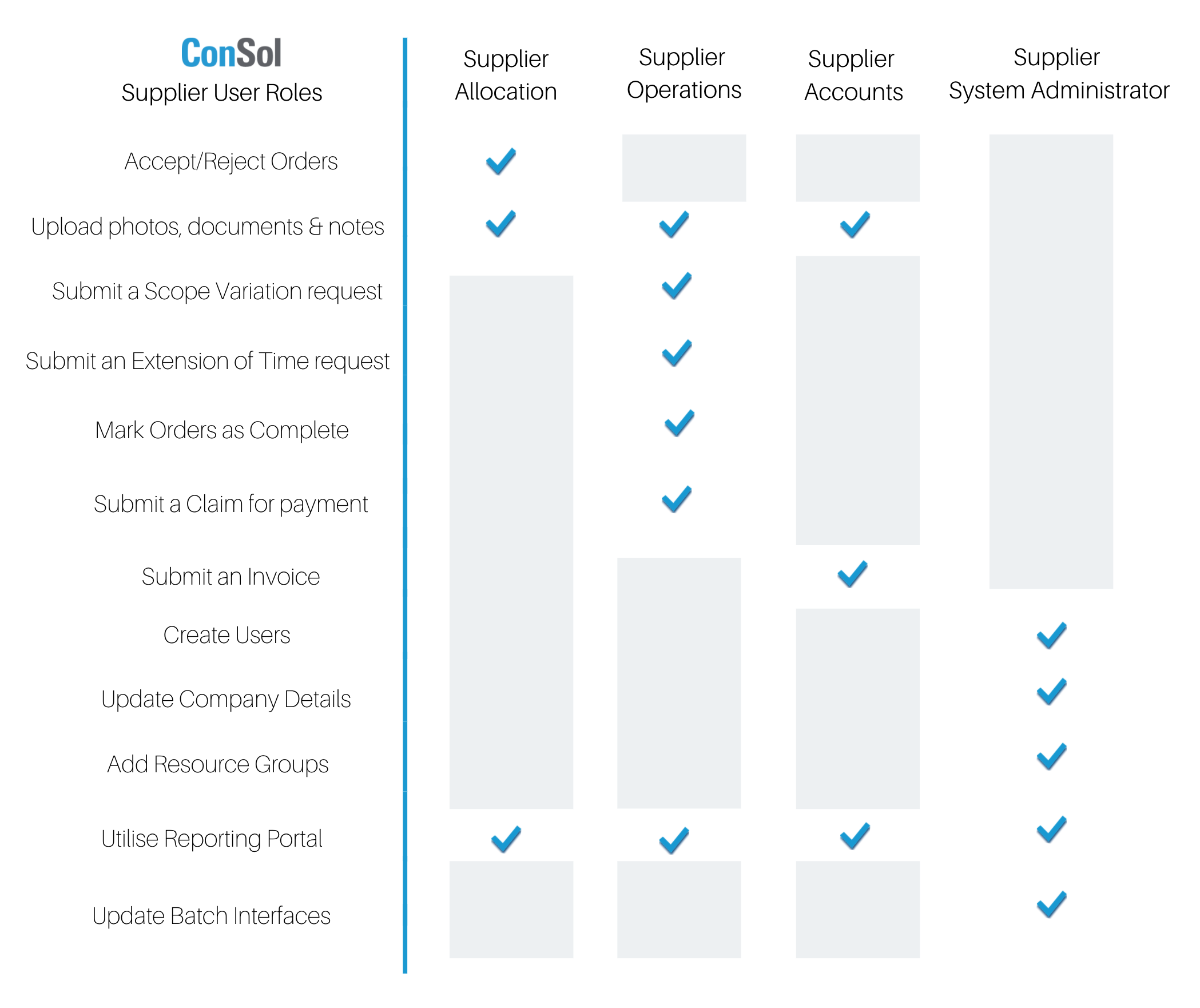 Here's a breakdown of the additional options available for all Supplier Users:
Role Seniority:
| | |
| --- | --- |
| | Indicates the user's access to the specified workgroup and role, thus giving them the ability to action any related work items. |
| | Is used in addition to Member level access, giving the user the ability to takeover any work items currently owned by another user and the ability to re-allocate orders from one user to another. |
Employee Type:
| | |
| --- | --- |
| Utilise this Employee Type for Independent Contractors working within your company. This filter ensures users are unable to view rates in either the desktop or ConSol Mobile. | |
| Employee, Contracted Staff and Agent Employee Types allow for the labelling of users for reporting purposes. System Administrators can filter reports by Employee Type. | |
ConSol Mobile Access:
All Supplier Users are able to complete work in the field and manage orders via the ConSol mobile app.
To have access, users are required to be enabled via their user profile and need to download the app from their appropriate store to their device.
To access all features of ConSol Mobile, a subscription will need to be purchased - subscription-free use only allows visibility of work orders as standard.
| | |
| --- | --- |
| | Supplier Users who require exclusive access via the ConSol Mobile app can do so by selecting the ConSol Mobile Only checkbox. Users retain all available roles and permissions, but are only able to login via the app and are unable to login via ConSol on the desktop. |


For steps on allocating User Roles see our article here