When you complete a job and mark yourself as off-site, ConSol will record the timestamp and geo-coordinates of your departure for auditing purposes. Correctly advising ConSol of off-site status is imperative to closing the heartbeat cycle that records a users location while on-site.
There are four ways to mark as yourself off site.
| | |
| --- | --- |
| | Via the floating menu |
1. Select the floating menu button in the bottom right hand corner of your order
2. Select Mark yourself as off-site
Marking the order as "Work Complete"
1. From Work Mode in your job, select Ready to Leave to progress to Wrap-up
2. In Wrap Up within the order, add any relevant notes and photos as required, and select either Some Work Remains or Work Complete
A pop-up box will appear indicating a record will be kept with the timestamp and geo-coordinates
3. Select YES
Marking yourself as On-site for a different order
1. Navigate to the Active Jobs worklist
2. Select the relevant job you're attending
3. Select Work
A pop-up box will appear asking you to confirm that you want to check in as being on-site, and advising that you will be recorded as off-site for your other job
4. Select YES
Via the push notification advising that you're still marked as on site
1. Your device will receive a push notification after 4 hours of inactivity with you marked on-site
2. Clicking the push notification takes you to the following screen, which is also accessible from the "Notification" option in the main menu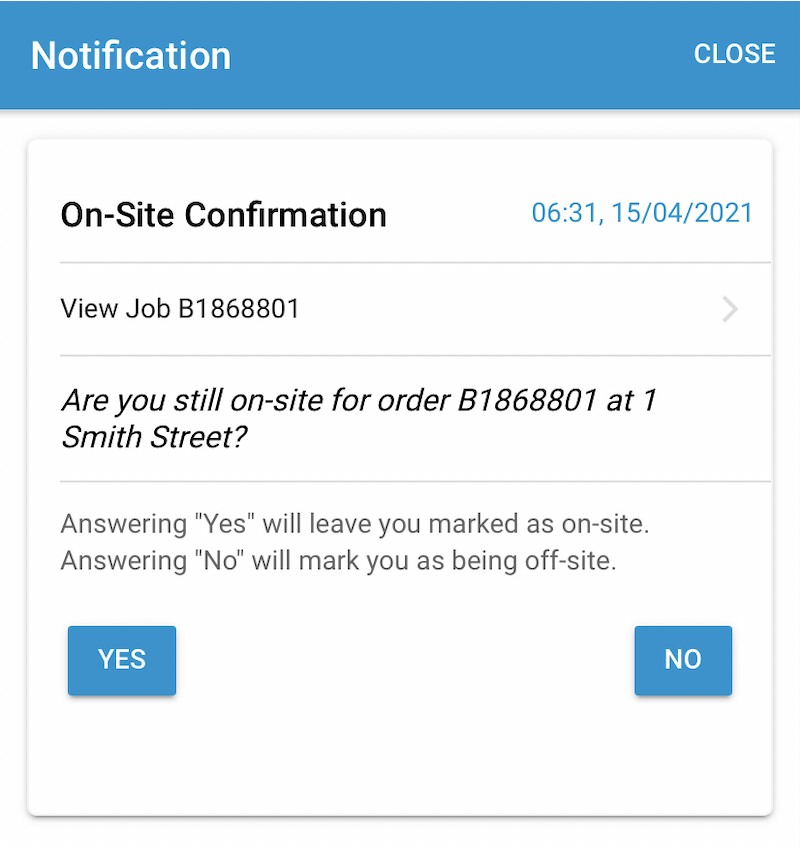 3. Select NO to mark yourself off-site.